In addition to aerial photography and express delivery, what else can fishing casting drones do? People have been using various ideas to broaden the different roles of drones in various fields. Some people seem to have found a very "practical" use - fishing drone cast fishing! And there are not a few people doing this. Whether it is in a small lake or in the sea, catching fish with a drone can be realized.
The drone used for fishing is used to drop bait densely in the school of fish. The angler hangs the bait line and small camera on the man-machine, and then controls the fish casting drone to fly over the sea at low altitude, looking for fish to drop the bait intensively, and then control the drone to return to the shore. In the whole process, the drones used for fishing acts as the role of "fisher's eye". Helping anglers find targets faster and more accurately, which saves the anglers waiting time and adds more fun to fishing. The 850M transmits images to the APP over a long distance, which can monitor the water surface in real-time. With the multi-functional dispenser, the flying fishing drone can easily release bait at a long distance, so that fishing is no longer empty-handed.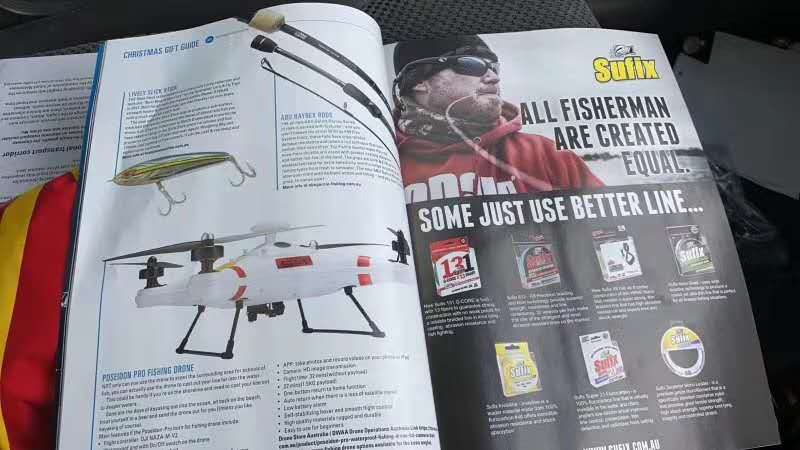 Drone casting fishing subverts the traditional fishing method and solves the limitation of close shore fishing distance. A fishing casting drone can release the line from hundreds of meters away, bringing fishing a qualitative leap. When the anglers rest and play on the beach, the drone catches fish. The angler only needs to hook the fish and pull it back. Fishing from a drone can make you relax and happy.

Who First Thought of Catching Fish with Drone?
The first people who thought of fishing on the drone were two young men in Australia. They first used the drone to find fish, and at the same time hung the bait on the drone. When they found the trail of tuna, they dropped the bait. They also took the fishing line on the drone and used the fishing rod to catch the tuna ashore. Their actions inspired drone manufacturers, so fishing casting drones came into being, and fishing from drones has become a new and exciting way of fishing.
Shenzhen Idea-fly Technology Co., Ltd. is a professional manufacturer of Poseidon 480 fishing drone. Our fishing casting drones have a high-definition image transmission system and a PTZ stabilization system. We focus on the development of fishing drone products that use drone fishing as the core. We strive to become the "best brand of using drones to find fish". Welcome to discuss and cooperate with us!
Drone Fishing Setup