High stability waterproof kit (housing, motor, switch), suitable for extreme weather such as rainy days, and even can fly in waters.
It can help water drone fishing, prevent rainwater, dust, etc. from entering the aircraft and the corrosion of seawater.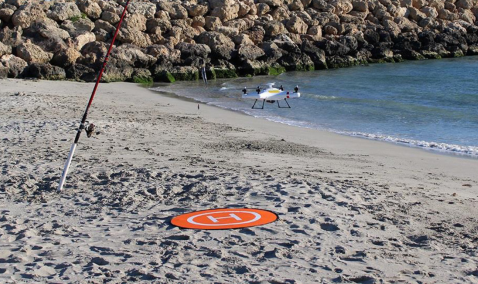 The application of fishing drone waterproof in the field of fishing is very popular. Anglers can take advantage of the waterproof fishing drone with an aerial view to drop the baited fishing line to the target position and record the wonderful fishing process remotely. The special waterproof body can protect the internal electronic parts from corrosion by seawater. Waterproof drone fishing can make the fishing process more efficient, saving the angler from worries.
If you want to experience the fun of fishing brought by fishing casting drone, we advice you to try the best waterproof fishing drone for fishing produced by Shenzhen Idea-fly Technology Co., Ltd. ——Poseidon pro II 480:
1. High-performance flight controller
Poseidon pro II 480 uses one of the most representative flight control systems in the world, the NAZA-M V2 multi-rotor flight controller, with built-in automatic GPS heading correction and GPS compass interference monitoring, which can provide more stable flight and minimal electromagnetic interference. This kind of controller is more suitable for a complex fishing environment.
2. Stable and reliable waterproof kit
Poseidon pro II 480 adopts an innovative waterproof structure design, which is more suitable for angler's use characteristics and fishing environment and plays a vital role in ensuring the stability of the fishing drone flight control system. Its fishing projector and other accessories have undergone special nano-waterproof treatment, so it can be used in corrosive sea water for a long time.
3. Extremely long battery life
Poseidon 480 Drone has built-in large capacity, an optional high-performance 4500mAh 6s lithium polymer battery, and a hovering time of 32 minutes without load.
4. Powerful HD digital image transmission system
As the best waterproof drone for fishing in IDFTECH, Poseidon pro II 480 adopts 5G high-definition digital image transmission system, which enables anglers to obtain 1080P high-definition real-time images. Meanwhile, the 5G high-definition digital image transmission system also combines the night lighting function to provide great convenience for fishing at night or in dark environments.